Publication Date: February 23, 2018

---
Purchase Book
---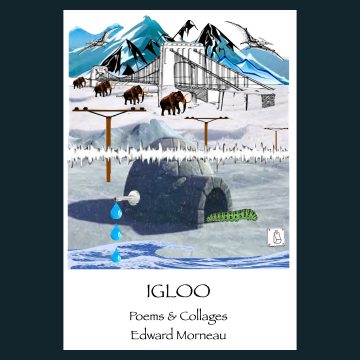 Igloo is a selection of poems and lyrics by Edward Morneau, illustrated with the author's collages. The pieces are collected from over thirty years of writing poetry or composing lyrics for songs*. The idea of 'igloo' is to give comfort to ideas and themes that are immediately lyrical, instead of formal, which often 'freezes' out of contemplation—works too elusive for meaningful understanding. Some poetry begs to be dismantled into disparate parts. The pieces in "Igloo" seek some immediacy, while the attendant collages invoke the mystery to which 'difficult' poetry aspires.
*One piece, "The Day the Birds Stopped Singing"— a song reflecting on the intimate loss of someone perishing in the 9/11 tragedy—was a deemed a song of merit by The John Lennon Foundation.
Excerpts: Click on each page.