Publication Date: August 29, 2016

---
Purchase Book
---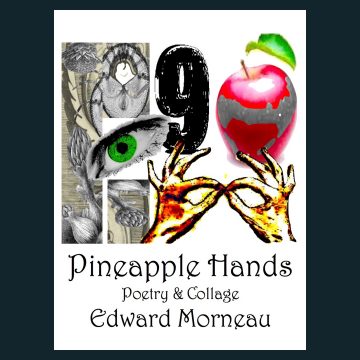 Pineapple Hands is the long-awaited volume of poetry and prose by Norwood appliance repairman, Warsaw Santiago. With an Introduction and an array of digital collages by Edward Morneau, PH is a fectile and not an uncertain accomplishment of art and literature.
Using the ancient koan as a framing device, Santiago explores themes as varied as 'Beauty', 'Truth,' and 'The UPS." Santiago revisits the myth of "Babel" in his short story, "The Frog Tree"; laughter in Hell with "When Puritans Go Swimmin"; and life and the death of the haberdasher in "Attorneys for Larry."
Here's one illuminating example of a universal Koan to which everyone can relate:
On Not Knowing One's License Has Expired
#29
The rancorous dog does not forget his rancor                                                                                                                                              When he feasts upon the substance of his daily meal,
Yet, grows as a weed in rancor                                                                                                                                                                      When not reminded of his hunger
Because of the rancorous weed.
Morneau's collages complement the mystery of the Polish-Bolivian poet's musings, and while his own obsessions with the rare Monkeymen from the Ancient Jungles of Malta may be off-putting to airy summer readers, those in the winter of their discontent will love these works.
"Lincoln & the Serpent in a Fishtank," "Dragon Flowerhead Johnny," and "Annie Oakley & Rip Van Winkle in No Man's Land" are among the many that will leave you horrified and charmed.
Santiago was an excellent repairman for Maytag and Sears, but rails against front loaders, which Morneau explores in his Introduction. As a result, Santiago now lives in exile with the Rolling Stones.
Morneau—the author of several books, including "Willy Loman, Nosferatu," "Billy Budd, WTF?", and "Teacher on Rye," among others, has enough Santiago koans to publish at least seventeen more books of his work.
A Comment
Literary critic, Arthur Science, writes: "Pineapple Hands, if anything, is the missing piece to all of life's puzzles."