Publication Date: January 17, 2018

---
Purchase Book
---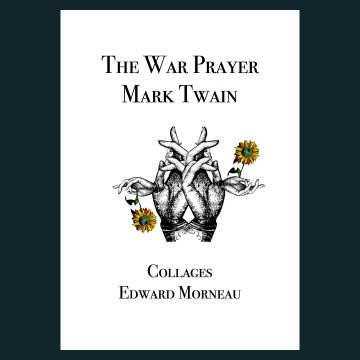 "The War Prayer" is Mark Twain's brief, but scathing indictment of war and its attendant themes of patriotic and religious hysteria. It remained unpublished until after his death. According to his illustrator, Dan Beard, Twain acceded to his publisher's request NOT to publish it because, in Twain's words, " I have told the whole truth in that, and only dead men can tell the truth in this world. It can be published after I am dead."
Taking inspiration from Thomas Paine and employing biblical prose, the 'prayer' simply evokes the real and emotional universal blueprint for a nation to rush to war. As narrator, Twain 'recalls' an unnamed country preparing for war, utilizing the fervor of patriotism and the necessary religious passions that baptize war in righteousness. While triumph, honor, nobility, valor, strength, determination and the propaganda of distilling these virtues take center stage in the town halls and are further amplified by the blessing of the churches in this unnamed state, a Stranger interrupts the reverie and reminds them for what they are actually 'praying.
The powerful depictions inflicted on the enemy in the name of war's 'virtues' are not quite the heroic images of valor for which the fervent so prayed. In ghastly detail he tells the other side of war—defeat—its devastation, brutality, moral hypocrisy, and offense to humanity in totality, and God, specifically.
Inspired by the Spanish American War and The Philippines War, "The War Prayer" was written in 1905 and published after his death in 1923. More than a short story, Twain's prose inspires visual representations of the zeal for, and horror of, war. Several adaptations have reimagined Twain's short story, from epilogues to larger works, to oratory, television and film.
What inspired Morneau to revisit this work was an adaptation of "The War Prayer" published in 1971 by artist John Groth, whose evocative, minimalist pen and ink illustrations put to image what is suggested by Twain's words. Page after page consists of unforgettable, often chilling representations that deliver a visual anti-war manifesto. Morneau uses the digital collage form to attempt the same ends. Using original art, photography, and public domain material, his collages provoke a thoughtful reaction to Twain's words. The images used that reflect the Syrian crisis are sure to cause controversy, which should follow war no matter what. Deserving of a more resolute, albeit costlier printing edition, this inexpensive paperback will have to suffice for now.